FreezeID from Credit Parent
Freeze ID's "Easy Freeze" solution, takes the headache out of freezing your child's credit report. With our Easy Freeze service, all you have to do is complete one simple form and we'll take care of the rest. Freezing your child's credit is the best way to prevent identity thieves from opening financial accounts in your child's name. A one time charge and 15 minutes is all it takes using our Easy Freeze service. (There are no annual fees or subscription costs with Credit Parent).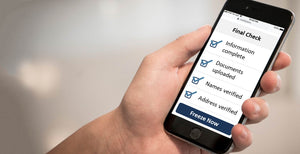 How FreezeID Works
Step 1. Get Access
Purchase one Easy Freeze for each child you want to protect. After checkout, we will send you a confirmation email containing a unique link to our encrypted application form, which securely collects the required information.
Step 2. Prepare your Documents
Collect physical or electronic copies of the following documents:
Social Security Cards for parent and child

Child's Birth Certificate

Parent's Drivers License (or other official Government ID)

A recent account statement from a bank, insurance, or utility
Step 3. Complete the Online Form
Click on the unique link in your order confirmation email to start your form. If you have physical copies of your documents, it's easiest to do this on your smart phone or tablet so you can use the camera. If you don't have all the documents on hand, don't worry, you can save and return later. 
When you submit the form, we'll confirm we've received it via email, and send you a follow-up email in 1-2 business days confirming Credit Parent has approved and sent your Freeze applications, and deleted your file from our systems.
CONGRATS! YOU'RE DONE! 🎉🎉🎉
Each credit bureau will mail you a confirmation letter containing a unique PIN code and instructions on how to unfreeze the file within 1-2 weeks. Store these letters/PIN codes in a safe place, such as a safe deposit box or wherever you store important documents.  
Have any other questions?
See our FAQs page for additional details on freezing your child's credit report.
Buying for someone else?
Easy Freeze makes a great gift! Ideal for new parent gifts, baby shower gifts, gifts from grandparents, and more. Click the buy button above to check out, then forward the confirmation email to the gift recipient.
Pro tip: We recommend forwarding the email confirmation after you've given them the gift so you don't ruin the surprise!